Enhanced security and worldwide acceptance: Campbell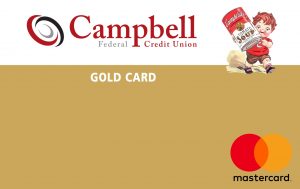 FCU EMV Mastercard credit card
Campbell FCU Mastercard offers all our cardholders a safe and secure EMV chip card. The chip provides peace of mind when you use your card at a chip-enabled terminal by making it tougher for unauthorized users to copy or access the data on the card.

Why use multiple cards when Campbell Federal Credit Union can offer you everything you need with one card? Enjoy borrowing power when you need it with a Gold, Classic or Share Secured credit card. Our credit cards have a low rate and our Gold card offers up to a 1% cash back rebate.*
Mastercard Classic & Share Secured Credit Cards
Limits from $300 – $2,000

10.9% APR

No Annual Fee

No transaction or cash advance fee.

25-day grace period on purchases.

Online Access to account information

For Share Secured: funds are secured in a credit union savings account.
Mastercard Gold Credit Cards
Enjoy all the benefits of the Classic Card, plus:
Limits from $2,000 – $25,000

Rebate Rewards, with up to a 1% cash rebate based on your annual purchases*

MasterAssist Travel Assistance Program

Extended Warranty on Purchases

MasterCard Global Service Emergency Card Replacement Service
Our Mastercards outshines the competition—see for yourself! Apply now using our Online Loan Application. View our Mastercard Account Agreement
Help keep your Mastercard account secure by signing up for alerts.  Click here to sign up or manage your alerts settings.
Request new alerts or make changes to existing preferences that can help you manage your card.
Alerts will be delivered to your cell phone or email address as your selected conditions are met.

Add or update your alert preferences online, anywhere, anytime.

Request new alerts or make changes to existing preferences that can help you manage your card.

Update your preferences online, anywhere, anytime!
*APR= Annual Percentage Rate. All Mastercards are subject to credit approval. Rebate Rewards is a rebate on purchases only. The rebate amount is calculated on total annual purchases based upon the following schedule: .25% for the first $2,500 of purchases, .50% for the next $2,500 of purchases and 1.0% on purchases beyond $5,000. Rewards are paid in January for the previous year's total purchases. The Credit Union reserves the right to change or alter this program at any time.
---
Notice: We have received several reports of fraudulent calls targeting our Membership.  The scammers are calling existing Members, claiming to require validation of unauthorized transactions from Texas.  In some instances, names of current credit union employees have been used. They are also using an 856 area code.
Please be advised that our card processor, PSCU, verifies all fraud claims via an 888 or 800 toll free number. And they will NEVER ask for your PIN, Social Security Number, Security Code or any other identifiable information.
If you receive a call regarding your credit union Debit or Credit card and are unsure of the caller, DO NOT provide any personal information. Hang up and immediately contact the credit union directly at 800-257-5354 or 856-486-3250.
---
Notice for Our Members Regarding Credit Card Surcharges
As a result of a court settlement between retailers and the credit card industry, merchants can now pass along their payment processing costs to consumers who pay with a credit card beginning January 27, 2013. This would mean that a merchant who chooses to exercise this new right could impose a surcharge, sometimes referred to as a "checkout fee" that could increase your credit card purchase amount by as much as 4% (maximum allowed). Not all merchants will charge this fee—it's up to the individual business owners. View Credit Card Surcharge Notice.